Last Thursday night I got home later than usual and hadn't yet eaten dinner.  I headed straight for the fridge expecting to see what I always see inside...a bunch of soda, a bottle of "I can't believe it's not butter" spray (I LIVE for this stuff!), and maybe some lunchmeat.  Um, yeah....Geoff and I aren't the best of cooks.  
Well, this particular night when I opened the door I saw.......... 
"oooooo......BACON,
" I exclaimed.  
"I didn't know we had anything bacon in here....I want some!"
Geoff looked at me and shook his head.  
"You can't have bacon for dinner."
My fit throwing began...
."why not?!  It's my birthday!"
"Cheyenne, your birthday isn't until tomorrow."
"You never let me have breakfast for dinner...it's my favorite!  I'll have some bacon, toast, and eggs....pleasssseeeee....."
At this point, Geoff's head sank and next came a horrible look of disappointment.  
"I was going to make you breakfast in bed tomorrow morning.
"


What a rotten wife!  As soon as he said that and I saw that dreadful look on his face, tears welled up in my eyes.  However, those tears weren't because I felt guilty for being so demanding and selfish.  They weren't because I felt bad for ruining Geoff's surprise.  I cried because I just felt so dang loved by that guy for thinking of me and trying to make me feel special on my birthday.  There's no question about it - I truly have the best husband on this planet. 
..........................................................................................................
Friday - April 4 was a fabulous day.  Even though I didn't deserve it, I awoke on my 27th birthday to be served my delicious and relaxing breakfast meal in bed.  Once I got to work, things weren't so relaxed.  I was running around like a crazy woman, it was so busy.  A couple of minutes before 12:00 noon, Geoff called my cell phone.  I answered, but quickly told him I couldn't talk, as I was swamped.  The next thing I knew, that sneaky guy was walking into my office with a rose and my favorite chocolate (riesens).  He was there to take me to lunch.  :)  My heart swelled yet again at how thoughtful he was.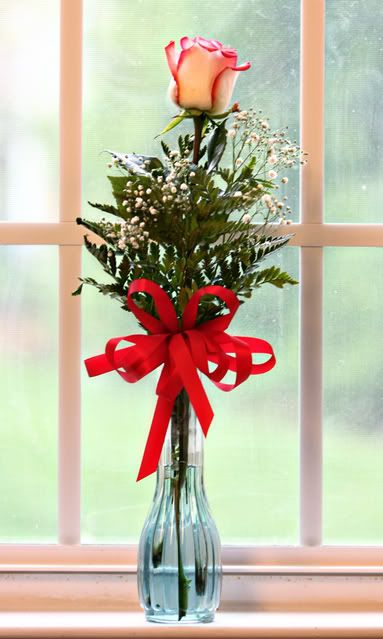 Our day ended with a nice dinner out at Providence Cafe in Charlotte.  We split the cajun pasta and let me tell you - it was GOOD.  I can't wait to get it again!  Here we are before leaving for dinner: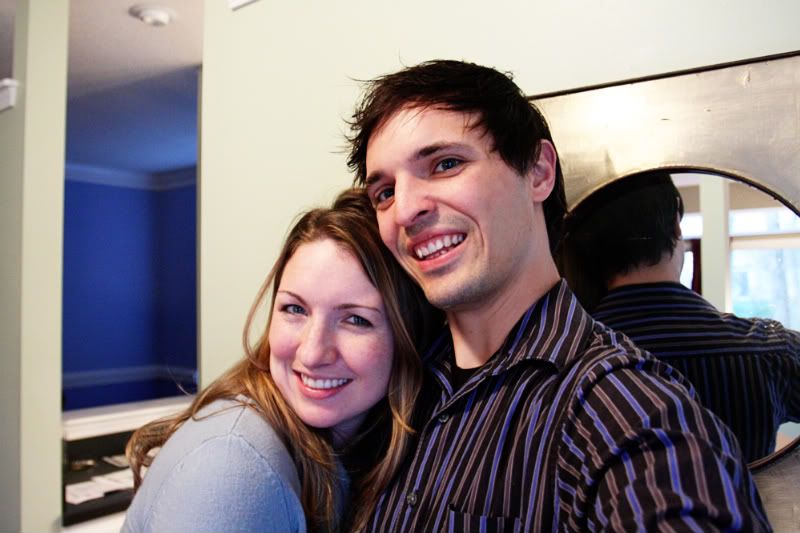 I have one more reason for why this past Friday was an amazingly great day....but I've been sworn to secrecy for now.  :))))))))  A hint - someone I know got engaged!  
And finally, to end this post, I have to wish our puppy - Ellen - a very happy FIRST birthday.  Our girl turned one on Saturday....she got to spend the day in her kitchen pen while we shot a wedding.  Poor little thing - alone on her birthday.  She's lucky we were busy, or I would have bought her a party hat and forced her to pose in it for her birthday picture.  
Thanks to everyone for all of your birthday wishes!!!